oC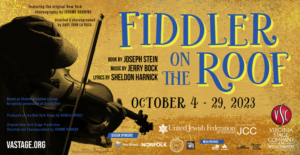 FIDDLER ON
THE ROOF
Based on Sholem Aleichem's stories, by special permission of Arnold Perl
Oct 4-29, 2023
Virginia Stage Company
Or copy and paste this link:
https://www.vastage.org/tickets
Box Office
Click here for TICKETS to Fiddler on the Roof at Virginia Stage Company.
"Tradition!"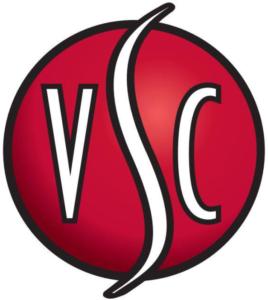 This electrifying classic musical kicks off our 45th season and 110th year of the Wells. The sun rises on this new production with a wonderful cast and a lavish orchestra to tell this heartwarming story of fathers and daughters, husbands and wives, and the timeless traditions that define faith and family. Featuring the Broadway classics "Tradition," "If I Were a Rich Man," "Sunrise, Sunset," "Matchmaker, Matchmaker" and "To Life," Fiddler on the Roof will introduce a new generation to this uplifting celebration that raises its cup to joy! To love! To life!
Produced in partnership with
United Jewish Federation of Tidewater and Simon Family JCC
Direction & Choreography: Gary John La Rosa
Performers:
Tevye: John Payonk
Golde: Eva DeVirgilis
Tzeitel: Ally Dods
Hodel: Mia Bergstrom
Chava: Amelia Burkley
Shprintze: Ellie Ruffing
Bielke: Stormie Trevino
Yente: Jacqueline Jones
Motel: Greg Dragas
Perchik: Nathan Jacques
Lazar Wolf: Scott Wichmann
Mordcha: Matt Friedman
Rabbi: John Cauthen
Mendel: Nick Richardson
Avram: Evan Norris
Nachum: Alec Gilliam
Grandma Tzeitel / Anya: Maryanne Kiley
Fruma Sarah: Lauren Kent
Constable: Scott Rolliuns
Fyedka: Timothy Wright
Shaindel: Tara Moscopulos
Yussel / Vladek: Anthony Silvas
Chaim / Yuri: Mitchell Maguire
Hershell / Sasha: Giovanni Di Gabriele
Boris / Schloime: Morgan White
Mirala: Ava Danae Stevenson
Bluma: Clara Coleman
Fiddler: Velkassem Agguini
Cheder Boy #1: Jasper Gayer
Cheder Boy #2: Gavin Gayer
duction Team:
Production Team: Gary John La Rosa, Director,
Performance Schedule:
October 4 – October 29, 2023
Madame Blavatskaya
JulHotel Greene
508 East Franklin Street, RVA 23219
Celebrate at the Hotel Greene with The Spirit of Madame Blavatskaya, Highfalutin' Mini Golf, an Exclusive Dinner Menu, and The Spirits of Long-Forgotten Staff & Residents.
"Our fauxtel has many long-term residents— some who are dead but don't know it.
Most notable among them is Madame Blavatskaya.
Madame Blavatskaya is said to frequent the Lobby Bar and Hotel Spa on First Fridays, but really, Madame materializes on her on timeline at her own whim.
Madame Blavatskaya also narrates: