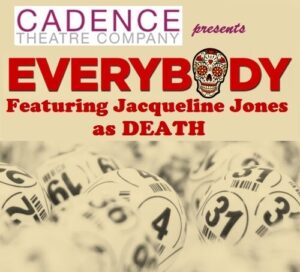 By Branden Jacobs-Jenkins
June 1-19, 2022
A Cadence Theatre Company
production, Co-produced by
Virginia Rep and Cadence.
Or copy and paste this link:
https://va-rep.org/_everybody-cadence-theatre.html
Box Office
Cadence Office
A Cadence Theatre Company production,
Co-produced by Virginia Rep and Cadence.
Post-Show Talkback: Sun, Jun 12, 2022.
Rush Tickets for Everybody are 1/2 price $22.50 plus tax and can be purchased by phone (804 282 2620) or at the door up to two hours before each show. For advance purchase by phone or at the box office (not online), Cadence Theatre offers code EVERY15 for $15 off of 2 tickets. The discounts are ideal for patrons who want to return to see how the onstage lottery plays out as the actors – and audience – discover who will play which roles each performance!
"Everybody's time is up.
But Everybody doesn't want to greet Death alone."
Everybody's time is up. But Everybody doesn't want to greet Death alone, so Everybody seeks the company of their friends Stuff, Kinship, Friendship, Cousinship, and Love to make the trip bearable. Branden Jacobs-Jenkins' (Appropriate, Gloria) modern riff on the fifteenth-century morality play Everyman follows Everybody (chosen from amongst the cast by lottery at each performance) as they journey through life's greatest mystery — the meaning of living. 2018 Pulitzer Prize Finalist in Drama.
Performers, in order of appearance:
Debra Wagoner (Usher/God/Understanding), Jacqueline Jones (Death), Tyler Stevens (Somebody), Jamar Jones (Somebody), Katrinah Carol Lewis OR Tatjana Shields (Somebody), Audra Honaker (Somebody), Maggie Roop (Somebody), Keeley Maddux OR Charlotte Hall (Girl/Time), Desiree Dabney (Love)
Production Team:
Rusty Wilson, Director; Maggie Higginbotham, Stage Manager; Tim Glover, Directing Assistant; Alleigh Scantling, Production Manager & Lighting Designer & Master Electrician; Emily Hake Massie, Scenic Designer & Scenic Charge; Chris Foote, Master Carpenter; Sarah Grady, Costume Designer; Joey Luck, Sound Designer; Ellie Wilder, Properties Master; Kristen Woolridge, House Manager; Grace Brown, Sound Engineer; Courtney Holmes , Backstage Crew; Kylie Clark, Puppet Designer
Performance Schedule:
Thu June 2, 2022, 7PM
Fri June 3, 2022, 8PM
Sat June 4, 2022, 2PM AND 8PM
Sun June 5, 2022, 3PM
Thu June 9, 2022, 7PM
Fri June 10, 2022, 8PM
Sat June 11, 2022, 2PM AND 8PM
Sun June 12, 2022, 3PM Talkback
Thu June 16, 2022, 7PM
Fri June 17, 2022, 8PM
Sat June 18, 2022, 2PM AND 8PM
Sun June 19, 2022, 3PM
Madame Blavatskaya
508 East Franklin Street, RVA 23219
Celebrate at the Hotel Greene with The Spirit of Madame Blavatskaya, Highfalutin' Mini Golf, an Exclusive Dinner Menu, and The Spirits of Long-Forgotten Staff & Residents.
"Our fauxtel has many long-term residents— some who are dead but don't know it.
Most notable among them is Madame Blavatskaya.
Madame Blavatskaya is said to frequent the Lobby Bar and Hotel Spa on First Fridays, but really, Madame materializes on her on timeline at her own whim.
Madame Blavatskaya also narrates: